Get Fast, Personal, Local Security Services in the Heart of PA
If you've been searching for fire protection, surveillance, security monitoring, or access control—and your business is located near Lancaster, York, or Harrisburg, PA—look no further. We have the solutions you need, the peace of mind you're craving, and the commitment to deliver it all with our more than 20 years of experience and dedication to Pennsylvanians and their businesses.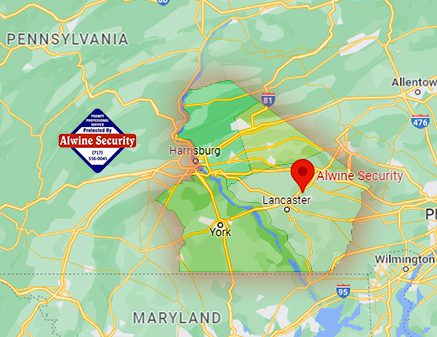 The Pennsylvania Counties We Serve
Not only are we headquartered in Lancaster, PA, but we also deliver all of our products and services from that location to Lancaster, York, and Dauphin Counties—and surrounding areas. That means you can expect technicians who live and work in your community, who understand Pennsylvania businesses' needs, and who can respond with speed and personalized service.
Lancaster, PA
Harrisburg, PA
York, PA
---
The Professionals at Alwine Security Serves Eastern PA Businesses That Need…
Comprehensive security solutions in or around Lancaster, Harrisburg, and York Counties
The latest in security equipment with thorough 24/7/365 monitoring
A fire alarm system that's expertly designed, fully compliant, and monitored 24/7
Access Controls that only allow authorized personnel into buildings and other areas
Surveillance that's as simple or as thorough as needed, with all the options you'd expect
Does your Eastern PA business need one of these solutions? Or all of them? Get in touch with us today, and we'll discuss the design of custom security solutions that meet every one of your needs and exceed all your expectations.
The Industries We Serve in Eastern PA
We are proud to serve Pennsylvania businesses in the following industries:
Property Management
Health Care
Education
Retail
Hospitality
Financial
Construction and Property Development
Churches and Non-Profits
Municipalities
Wholesalers and Distribution
Home
Even if you don't see your industry listed here, please reach out to us. We may be in the process of adding yours to our list!