Get an Access Control System that Puts You in Control
Who is coming and going from your facility? Who should have access to specific buildings and areas? The answers to these questions will determine the access control functions for your York-, Harrisburg-, or Lancaster-area business. Let us work with you so you can take full control!
What is an Access Control System?
Unlike your ring of building keys, an access control system provides the ability to manage who can go where (and when) in your facility. Access control systems are critical for facilities' control and safety. Locked doors protect your employees, clients, networks, and property.
Whether you need to secure a set of doors at one location or hundreds of doors at many locations, our professional, experienced consultants will customize an access control system for your business that meets all your needs.
A Wide Selection of Access Control Systems from Alwine Security
Are you in search of a single-door controller? How about a Cloud-based platform, integrated system, PoE (Power over Ethernet), or managed access control?
There are so many access-control options available, and we want to make sure you understand all that's available.
Single-Door Controllers
Managed Access Control
Electronic Locking Systems
Audio/Video Intercom Systems with Door Release
Cloud-Based Platforms
Integrated Access Control
IP PoE Readers/Controllers
Gate & Parking Controls
Visitor Management Systems
Badge Printers
Cards & Key Fobs
Lanyards
Biometrics
NFC and Mobil-App-Controlled Entry
How can a custom combination of these components work together to secure your facilities?
Let's find out. Call us today.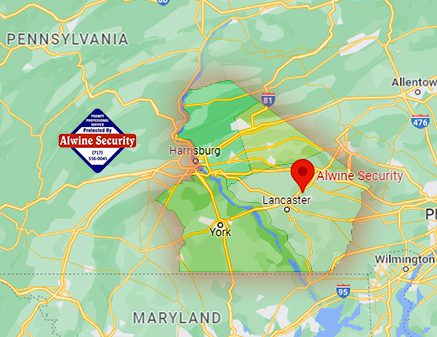 The Other Services that Alwine Security Delivers
Is access control only one of your security concerns? Do you also think about fire, intrusion, and other suspicious activity? Our security company in the Lancaster, PA, area has a full line of services for many different industries:
Give us a call, and we'll talk about what's most important to you!